Traditional vs. Implant-Supported Dental Bridges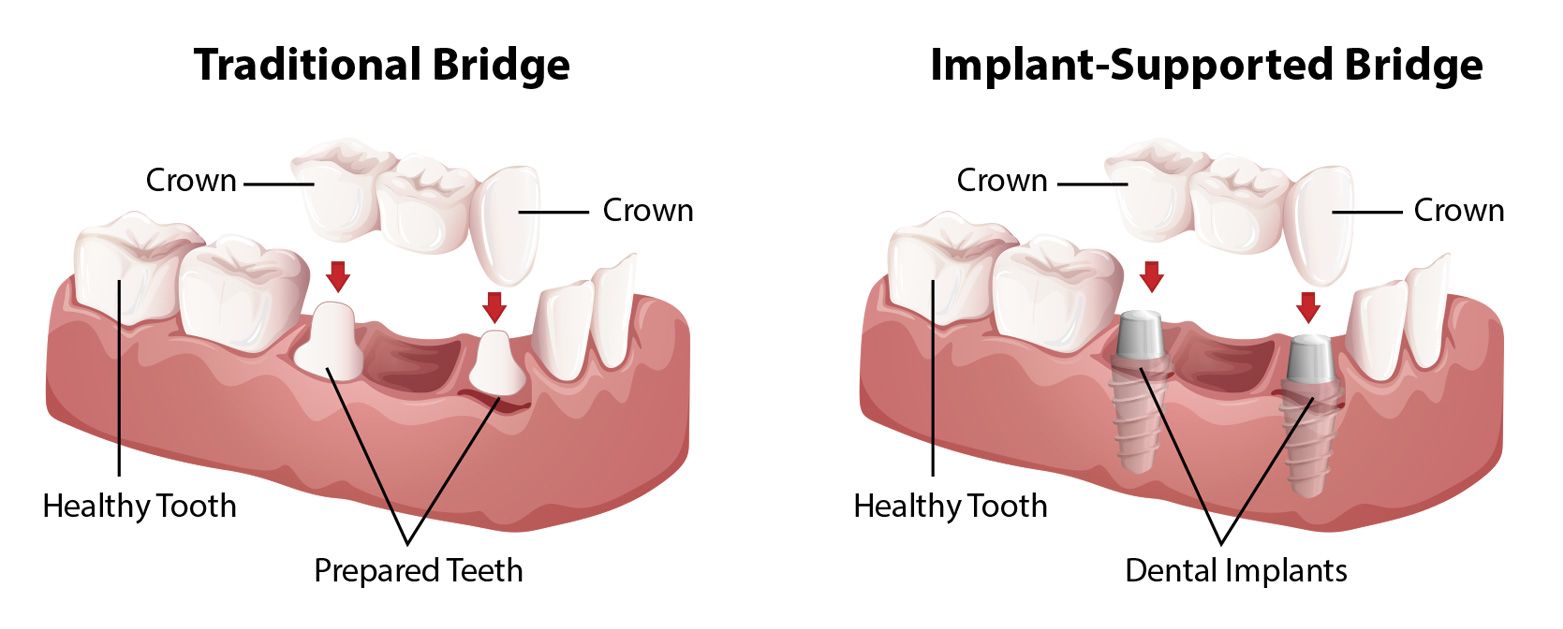 A dental bridge is an appliance that is used to literally bridge the gap that's been left behind by a missing tooth or multiple missing teeth. A bridge differs from a denture in terms of its size. Dentures are designed to address major tooth loss (i.e., loss of many or all teeth) while bridges can address the loss of a single tooth or a few missing teeth.
The team at our Canton restorative dentistry practice is proud to offer traditional dental bridges as well as implant-supported dental bridges to address tooth loss. Let's compare these two options and then weigh the pros and cons when it comes to treatment.
About Traditional Dental Bridges
A traditional dental bridge is a bridge that can be removed. It is held in place by bracing around the teeth that are adjacent to the tooth gap. Some traditional bridges are fixed in place using dental crowns; these crowns cap the teeth adjacent to the gap in order to improve the stability of the appliance.
Dentists and dental labs carefully design their bridges to that they fit snugly and securely, allowing patient to bite, chew, and smile with confidence.
Benefits of Traditional Dental Bridges
Traditional dental bridges offer a number of benefits for people missing teeth:
Natural appearance
Relatively affordable
Durable and able to withstand regular wear and tear
Generally stable when custom fit to the patient
Reliable treatment for tooth loss
About Implant-Supported Dental Bridges
Implant-supported dental bridges are dental bridges that are fixed in place rather than removable. To fix these bridges in place, dental implants are used. Dental implants are artificial tooth roots that are surgically anchored into the jawbone and gum tissue of a patient. These artificial tooth roots fuse with the living structures of your mouth, essentially functioning just like natural tooth roots.
When a dental bridge is fixed in place by dental implants, the level of stability is unmatched. Patients are able to bite and chew with absolute confidence.
Benefits of Implant-Supported Dental Bridges
While implant-supported dental brides are more expensive than traditional dental bridges, they have the following important benefits:
Very low chance of bridges slipping out of place
Unmatched strength and stability of a bridge
Eliminates bone loss and gum recession due to missing teeth
As to the last point, only dental implants can prevent the inevitable loss of bone and gum tissue when a person is missing teeth. This can be very important for overall dental wellness in the long run.
Developing the Right Treatment for Your Needs
When it comes to getting traditional bridges or implant-supported bridges, there are many factors to consider. Cost is a major matter to keep in mind. Getting dental implants can be a major financial burden on households. Even though there are dental financing plans available, patients may still find dental implants out of their price range.
In addition, patients need to consider suitability for oral surgery. Recovering from surgery can take several months or longer, and there are post-op risks patients need to keep in mind when considering dental implants.
During the consultation process, we can discuss all of the advantages and disadvantages of your options in greater detail. Our goal is to develop a treatment plan that is ideally suited to your needs.
Learn More About Dental Bridges
For more information about dental bridges, dental implants, and your many other options for treating tooth loss, be sure to contact our cosmetic and restorative dentistry center today. We look forward to your visit and discussing these matters in much greater detail.
Related to This